THE POWER OF 3
Our Effective Business Unit is a powerful approach to real estate services in Palmerston North. Vaha, Neville, and Ken work together as a team to provide a service with a difference.
When it comes to Real Estate, three really is better than one. Taking a fresh and effective approach to property services in Palmerston North, the team of Neville, Ken & Vaha work together to provide a service with a difference, tripling up on quality and results.
SERVICE
Our effective business team is designed to serve you better, because three sales consultants can simply do more than a single agent.
COMMUNICATION
Communication and technology is the name of the game in today's competitive property market; we offer you the leading edge in both of these.
EFFICIENCY
Each real estate agent has a dedicated set of tasks in working with sellers and buyers, so you can be sure that with us nothing is missed.
INNOVATIVE
We bring new and inventive ideas to the forefront regularly, keeping our marketing fresh and working at the forefront of Real Estate to deliver you the best service available.
TRUSTED
Watson Real Estate is a local, family business and has been offering its trusted services to Palmerston North buyers and sellers for the last 25 years. Our team is simply part of that family.
INTEGRITY
Integrity is so important to us, we made it our company's byword. We commit to you with honest and reliable business practices to ensure you can trust every move that we make on your behalf.
MEET OUR EBU TEAM
Working together as Palmerston North's first Effective Business Unit you can be sure that with us, no stone is left unturned and we can guarantee we will provide you with the very best of service.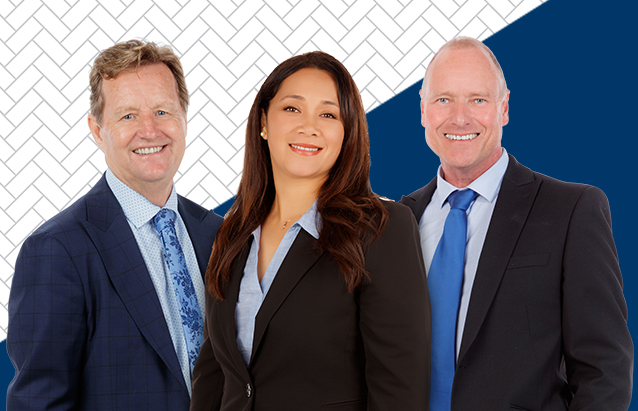 Ken Watson
PROPERTY CONSULTANT
After 37 + years in real estate, Ken's specialised role is talking to sellers about the important factors to be taken into consideration when selling their home. Selling homes can be a very emotional and stressful time, and his role is to remove much of this stress. People generally only sell properties once every few years, so it is extremely important to let clients know all the current methods that are around today.
Vaha Halatuituia
PROPERTY CONSULTANT
Vaha's role in this unit is to be a client manager. This will involve her helping to provide a superior marketing service, and to be keeping in constant communication with our clients. Vaha is highly organised and helps to ensure no stone is left unturned for our clients. Vaha also looks after all open home enquiries and make sure all sales agreements are top notch.
Neville Muldrock
PROPERTY CONSULTANT
Nevilles' role is to specifically work with buyers. He keeps in constant communication with buyers to get as many interested clients through your property as he can. When buying a house or even investing in property, it can often be overwhelming and confusing. This is why Neville is here – He is here to help you.
Exceptional marketing with a difference
Showcase your home to a whole new audience with our exceptional property marketing. We create the difference for you, uniquely tailoring every listing with premium visuals and the latest technology to bring the property market right into your home.
INTERACTIVE VIRTUAL WALKTHROUGH OPEN HOME TOURS
A new revolutionary experience for both sellers and buyers. Fully immerse yourself in an interactive model of property – it's so real, it's like being there.
PROFESSIONAL PHOTOGRAPHY
Quality photography is one of the biggest tools in selling your property – create a lasting impression with photography that truly sells your home.
FREE MARKERING WORTH $1300 WITH EVERY LISTING
List your property with Watsons and we'll throw in $1,300 worth of marketing at no cost to you! Our marketing package gets your property in front of the right people so it sells fast at a top price!